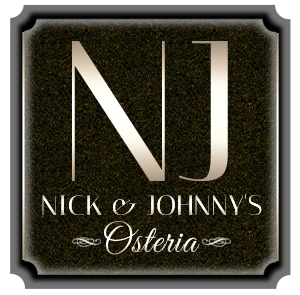 Nick & Johnny's Osteria
Enjoy bold Italian classics, delicious pies, and a superb selection of specialty drinks and cocktails. Just Walking distance from cool ocean breeze's, Nick and Johnny's Osteria is the place to meet up with friends, savor delicious food, relax and unwind.
Enjoy the best Happy Hour 4:30 to 6pm Daily!
2 for 1 house brands at the bar and reduced prices at the Bar room tables.
Special Events:

Featuring Angelo Perrone, who has performed with popular groups such as "Little Butchie & The Brats" and "Rhythm Jesters," and with "Lenny Coco and the Chimes," Sue 'Blue' Degrassi, and Vocalist Sal Sofia singing the top 50s & 60s.
Nov 21, & Dec 19, Jan 9, Feb 20, & Mar 13 - 6 to 9 PM 2021
Reservations Required
---

Features Donna Shelby, Erica Toledo, and Yamila Ayala.
Nov 7, - 6 to 9 PM 2021
Reservations Required
---

The Magic Moments Band & Jonny T
December 5, - 6 to 9 PM 2021
Reservations Required
---

Featuring National Recording Artist
Johnny Tarangelo
Fabulous dinner shows that bring to life the smooth sounds of yesteryears brought to you by Johnny T & guests. Enjoy the top 50's & 60's like you've never heard them before. These dinner shows will have you singing the night away. No cover charge, but strong appetites are a must. Seating is limited.
Nov 7, Dec 5, Feb 27, & Mar 20 - 6 to 9 PM 2021
Reservations Required
---

Joey & The Paradons
December 12, Jan 23, Feb 6 - 6 to 9 PM 2021
Reservations Required
---
Steven Ditullio
Performing Tuesday 6 to 9 PM
David Goodman
Performing Wednesday 6 to 9 PM
Darrell Gwinn
Performing Thursday 6 to 9 PM
Alfonso Carey
Performing Friday 6 to 9 PM